This material may not be published, broadcast, rewritten or redistributed. SALISBURY, N.C., Oct. 9, 2013 — /PRNewswire/ –Food Lion has rolled out a series of digital improvements to make saving money on groceries easier for its customers. Food Lion recently became the largest U.S. grocer to launch a new technology provided by Wishabi , a leading technology company that has reinvented the digital flyer, to provide customers with an enhanced online savings experience. Today, Food Lion also joined the Ibotta mobile app to offer customers cash rewards for completing tasks and purchasing featured products. "We're listening to our customers and they're telling us that digital channels are an important part of their grocery shopping experience, so we're focused on making that easy for them and helping them save more online," said Keith Nicks, director of digital, customer loyalty and retail marketing for Food Lion. "The new, interactive flyer, coupled with the Ibotta app, which works with Food Lion's MVP Card to provide customers with cash rewards, is a recipe for helping our customers experience the savings they're looking for in the digital space." The new digital flyer enables customers to interact with the online flyer the same way they do with the print flyer, browsing by discount and category and circling their selections and savings with the click of a mouse. It also saves customers time through a new shopping list, which can be printed or emailed. Through Food Lion's presence on Ibotta, customers can download the Ibotta app, perform a simple task like reading a recipe and earn cash rewards when they shop for featured products at Food Lion stores. Customers can follow four simple steps found at www.foodlion.com/ibotta to register their MVP Card. As customers purchase featured products, rewards automatically populate to their account on Ibotta and can be easily transferred to a PayPal account to be redeemed as cash. According to Consumer Intelligence Research Partners, Ibotta is the #16 most frequently used mobile app in the U.S.
We do 2-3 events per day at schools in our district, they include Rainbow Days, Tastings, Chef Demos and Iron Chef competitions. During a Rainbow Day, we encourage every student, whether they brought or bought their lunch to choose 6 colors from the Salad Bar and when they eat their rainbow we give them a sticker. 1:00pm: Headed back to the airport. On my way to LA, phone calls in the car working on dirty towels in kitchens, hotdogs that arent gluten free and should be and our new software system and some "bugs" were having. 4:00pm: On the plane, working on an assessment contract. 6:45pm: Dinner with Liz McMullen, Executive Director of the Jamie Oliver Foundation in the U.S. We had a nice dinner at Taberna . Chorizo with chick peas, stuffed peppers, sardines, croquettes and more. 9:30pm: Took a brief walk by the beach and fell into bed. Friday, September 27 7:00am: Ended up walking from Santa Monica to Venice and back by way of the beach – stopped for coffee and watched the surfing for a bit, bemoaning the fact that they were in the water and I was not! 1:30pm: On my way to Kids in the House . Over 2 hours of filming – talking about why we need healthy food in schools. Felt like my TED Talks on steroids! 5:00pm: Back in a car on my way to the airport. Saturday, September 28 9:00am: Headed to the farmers' market for a photo shoot and some shopping.
Food Informants: A Week In The Life Of Ann Cooper, School Lunch Reformer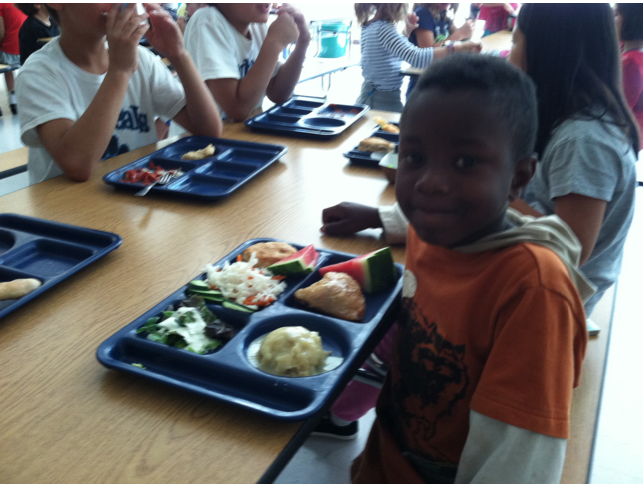 A new study suggests that looking at many too many pictures of food may actually make the act of eating less enjoyable. "In a way, you're becoming tired of that taste without even eating the food," study co-author Ryan Elder, an assistant professor of marketing at Brigham Young University's Marriot School of Management, said in a press release . "It's sensory boredom — you've kind of moved on. You don't want that taste experience anymore." Researchers asked 232 people to rate pictures of food based on how appetizing it looked. Half of the participants looked at 60 pictures of sweet foods like cake, truffles and chocolates. The other half looked at salty treats like chips, pretzels and French fries. Subjects finished off their experiments by eating peanuts, which is a salty food. They were then asked how they would rate the peanuts they just finished. New findings on junk food photos The people who looked at the salty foods enjoyed the peanuts less than those who didn't, even though they didn't see actual pictures of peanuts. The researchers believed that because they had looked at so many salty delicious foods, the subjects had satisfied their appetite for those types of foods. The authors believe that the more pictures of a certain type of food a person looks at, the less tasty that food will be when they actually get to eating. They said surfing food pictures might be a good tip for dieters. "If you want to enjoy your food consumption experience, avoid looking at too many pictures of food," study co-author Jeff Larson, a marketing professor at Brigham Young University's Marriot School of Management, said in a press release. "Even I felt a little sick to my stomach during the study after looking at all the sweet pictures we had." However, the researchers pointed out the effect was only pronounced if you looked at lots of food pictures.
Replacing Food Stamps With Cash Is a Terrible Idea
In contrast, no store needs training on how to deal with cash. Another criticism of the program is that food stamps lead to more spending on food than otherwise would be the case. They can't be used to purchase other products, so the incentive is to buy until the benefits are exhausted. By some estimates, food stamps lead to over-purchases of food equal to about 15 percent of total benefits. If so, the $75 billion annual food-stamp program generates more than $11 billion in extra food spending. This was a huge reason legislators from farm states — most of them Republicans — were once such ardent proponents of food stamps: It was a hefty goodie for their agriculture constituents on top of the roughly $25 billion in explicit annual government handouts for agriculture. If food stamps were converted to a cash benefit it's likely that the overspending — and thus a big piece of ag-industry pork — would diminish or disappear. What's more, Yglesias says, the voucher system we now have breeds fraud and corruption, a standard plaint of Republicans. (In an amusing aside, he describes how some years ago he used to buy cigarettes — which can't be purchased with the vouchers — for a neighbor who was on food stamps, who in turn bought him boxes of Diet Coke. Food-stamp fraud alert.) Hold on a minute. Studies suggest that fraud is modest, equal to about 1 percent of the program's spending. That's still a lot of money, but as a percentage of the total it's minor. Furthermore, fraud has gotten harder ever since benefits have been issued on electronic-benefit transfer cards, which operate like debit cards at the grocery store.