According to a person familiar with the investigation, Schneiderman's effort stems from a New York state law signed in 2010 that places limits on residents' ability to rent out their homes to others. Airbnb, which helps people rent out their houses or apartments for a period of time, said last week that it has 225,000 community members in New York. The Attorney General's office has been investigating Airbnb for more than a month, a person familiar with the investigation told CNET. The investigation stemmed from complaints by lawmakers and housing advocates. Related stories Tampa is the nicest city in America, says Airbnb The crux of the issue appears to be so-called "bad actors" who find short-term rentals and run amok, according to a person familiar with the investigation. Some of those renters could be sidestepping paying taxes, the person indicated. In addition, the attorney general's office wants to target those who are renting out multiple units in violation of state law or who are renting out their properties for longer than expressly allowed under the state's tax laws, a person familiar with the investigation said. A person who is simply trying to rent out their units every now and then — a so-called "casual user" — will not be targeted in the investigation, according to the person. In its statement on the matter, Airbnb said that it agrees that "bad actors" are an issue, and indicated that it believes the attorney general's office "is only seeking to target an incredibly small number of bad actors who abuse the Airbnb platform." Despite that cooperation, Airbnb bristled a bit at the subpoena, indicating that the attorney general's office wants access to all New York-based short-term renters on the company's service, despite plans to go after those bad actors. Airbnb wants to work with the attorney general to weed out the troublesome renters and keep the rest of its data secure and outside the prying eyes of lawmakers. "We are confident we can reach a solution that protects your personal information and cracks down on people who abuse the system," Airbnb said today in a statement. The Attorney General's legal action is just the latest issue Airbnb has faced over the last year . The company has been targeted by governments far and wide over its service, which some say, hurts the hotel business. Airbnb argues that such claims only serve to cater to " entrenched interests ," and believes that its service is actually helping the hospitality industry, not hurting it.
New York Sen. Chuck Schumer predicts Republicans will back down from demands on Obamacare restrictions
28. The program was slated to bring in more than $1 billion in revenue to the city. We are disappointed in the courts decision, but it will not prevent our plan to start upgrading the NYC taxi fleet with the Nissan Taxi of Tomorrow at the end of the month, Travis Parman, a U.S. spokesman for Yokohama, Japan-based Nissan, said in an e-mail. We are evaluating options for next steps regarding the exclusivity contract. The other part of the program is a fleet of green cabs that riders could hail in underserved areas of the city, including northern Manhattan and the boroughs of Brooklyn , Queens, Staten Island and the Bronx. Those cars have been on the streets since August. The fleet, now at 300, will increase to 18,000 over the next three years, 20 percent of which will be accessible to the disabled, according to Allan Fromberg, a spokesman for the Taxi and Limousine Commission Medallion owners and taxi drivers had different reactions to Haglers decision. Commission Overreached The Taxi and Limousine Commission had overreached in its authority when it maneuvered to approve this outside of the legal city authorization routes, Ethan Gerber, executive director of the Greater New York Taxi Association, the medallion-owners group that brought the case, said in a statement. The NV200 was inappropriate for people in need of accessible vehicles and those who are concerned with the environment, he said. Bhairavi Desai, executive director of the New York Taxi Workers Alliance, a union for cabbies, said the Taxi of Tomorrow plan lets drivers use their collective purchasing power to cut sales costs and get an unprecedented 150,000-mile (240,000-kilometer) warranty. Deep pocketed companies bitter that the TLC has finally started enforcing against their lease overcharges against drivers and who profit generously by charging high-interest car loans to drivers filed this suit, Desai said. Drivers and passengers lost today. The case is Greater New York Taxi Association v.
New York Taxi-of-Tomorrow Plan Struck Down by State Court
Wind gusts in excess of 60 mph are possible. Cuomo told New York residents to heed storm warnings, avoid flooded streets and tie down lawn furniture and other objects that could be hurled by gusting winds. Weather Conditions Weather conditions can change with little warning, so it is important that New Yorkers take appropriate measures to ensure their preparation and safety throughout severe weather events, he said. The clash of cold air moving into the U.S. Northeast from the west and a pocket of warm and humid air already there will set up just the right conditions for rain, thunderstorms and maybe an isolated tornado, said Mark Paquette, a meteorologist at AccuWeather Inc. in State College , Pennsylvania. It should cause some major headaches, Paquette said by telephone. Anytime you have winds, there will be delays, and not only that, but there will be blinding downpours, so certainly expect delays and possibly shutdowns. Eastern Pennsylvania, northwestern New Jersey and the lower Hudson Valley as well as the Catskills have a 5 percent chance of experiencing the destructive storms, according to the U.S. Storm Prediction Center in Norman, Oklahoma . Elsewhere in the Northeast, the odds of a tornado forming are about 2 percent. Power Outages Several trees have already been reported knocked over by winds from the front in Pennsylvania and Virginia, according to the storm center. About 4,389 electric customers in both states have lost power, including 1,600 in Richmond, according to utilities.
Severe Storms Forecast for New York City Disrupt Travel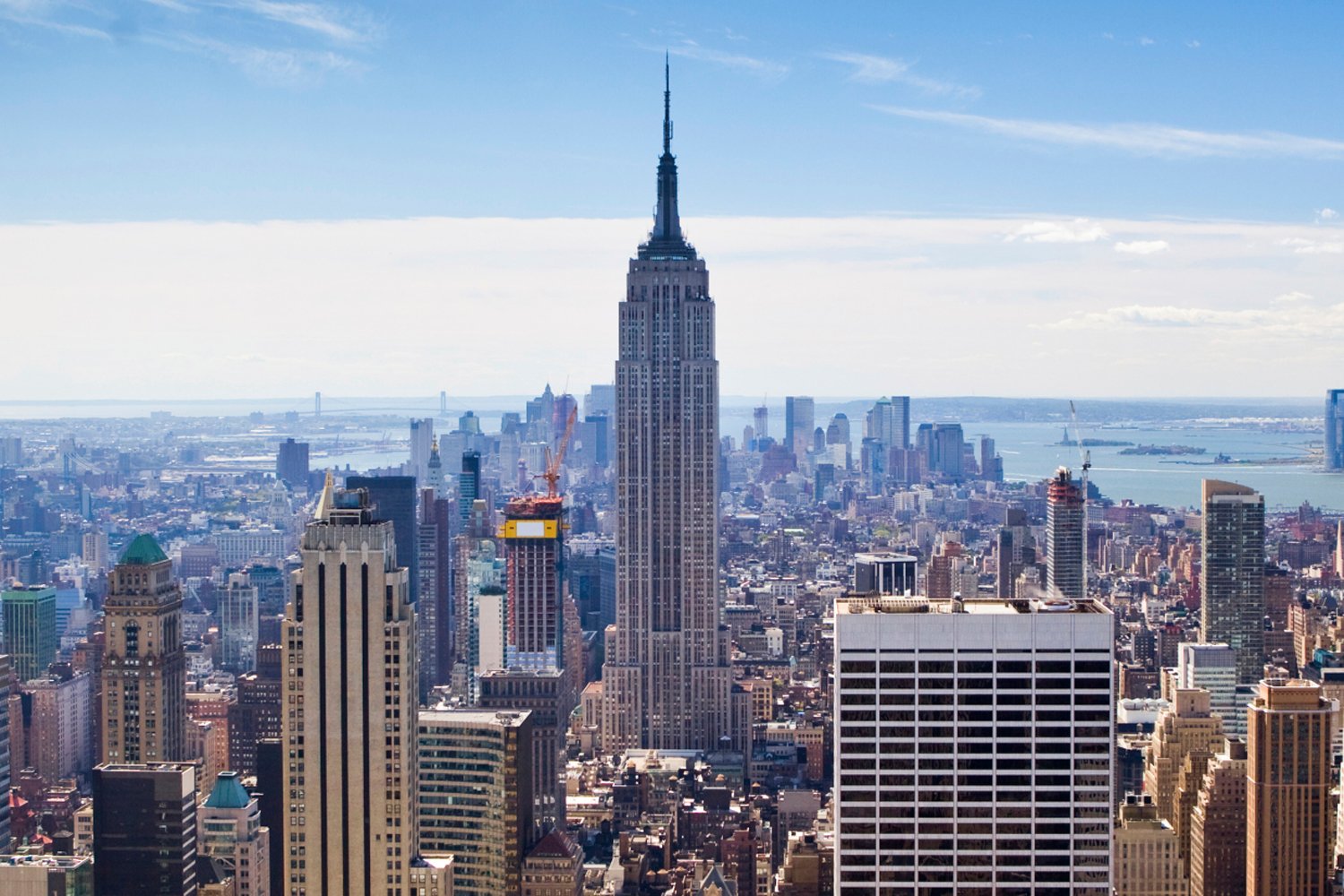 Chuck Schumer predicts Republicans will back down from demands on Obamacare restrictions Let me make a prediction,' Schumer said Monday on CNN. 'When we get close to debt ceiling, (House Speaker John Boehner) will have to break with the tea party.' By Adam Edelman / NEW YORK DAILY NEWS Monday, October 7, 2013, 3:03 PM Comment CNN Sen. Charles Schumer (D-N.Y.) said Monday he thinks House Speaker John Boehner (R-Ohio) will fold before the nation reaches its debt ceiling on Oct. 17. Related Stories Why the Debt Ceiling Is a Better Fight Than the Continuing Resolution for the GOP New York Sen. Chuck Schumer insisted Monday that House Republicans would back down from their demands to link Obamacare restrictions to keeping the government funded before the country reaches its borrowing limit later this month. Let me make a prediction, Schumer said Monday on CNN. When we get close to debt ceiling, ( House Speaker John Boehner ) will have to break with the tea party. RELATED: BOEHNER: BUDGET SHUTDOWN WONT END WITHOUT NEGOTIATIONS The debt ceiling is such a calamitous possibility that you could go into a recession or even a depression worse than Lehman Brothers and AIG in 2008, that he will have no choice, Schumer added. New Yorks senior senator went on to re-issue a challenge to Boehner that many top Democrats have already thrown toward the embattled Republican House leader: call a vote on the House floor for a clean continuing resolution to keep the federal government funded. RELATED: REPUBLICAN CONGRESSMAN TIM GRIFFIN BLASTS DEMOCRATS FOR VIOLENT RHETORIC DURING CAPITOL SHOOTING Just put it on the floor, lets see if we have the votes, Schumer said. I have very little doubt if the Speaker put it on the floor, it would pass. But Boehner claimed just a day earlier that he would not have enough votes, across both parties, to pass either a clean debt ceiling increase or a clean government funding bill. RELATED: NOBODY WINNING IN SHUTDOWN SHOWDOWN AS DEBT WOES LOOM Figureheads in both parties have traded barbs in the days since the federal government shut down on Oct. 1, blaming one another for refusing to negotiate. If Congress doesnt raise the debt limit before Oct.